Items for Sale
Warning to all Sellers - Several of our members have had suspicious emails regarding the sale of cars/items. It is suggested that all sellers use common sense especially in dealing with overseas offers - these are often scams just trying to extract information (private and banking) from you. You have been warned! This is a sample of a scam:

Hello Michael,
Thanks very much for the mail. And am ready to purchase the Items from you. Concerning the payment for the Items, there is something i want you to know first because am financially down at the moment. There is one of my creditor in uk who is owing me £2000 and i want to inform him to help me to pay you on my behalf in that amount with a certified cashier cheque drawn in uk bank since am financially down at the moment. I will urge you to assist me when you receive the cheque and the deduct the cost of the Items which is £150 when the cheque has cleared, in sending the remaining balance to my shipping company who will be coming for the pick up arrangement of the Items in your house and all of my other consignment too in u.k. If this is okay by you do get back to me with your full contact details for the payment such as:-
1,Your full name on the cheque
2,Your full contact address including city, state, zip code and country.
3,Your full contact phone number.
I will be expecting to read from you as soon as possible.

As it says on the Home page: All contributions to this website only contain the personal opinions of the individual concerned. The Club accepts no responsibility for advice or information on this site or any other item of Club literature. Neither does any advertisement, featured imply an endorsement or recommendation by the Club.
If you would like to advertise here please send details to the webmaster.
The charge to non-members is £20 for 6 months on the website and 2 issues of the mag. You can either pay by cheque or bank transfer.

Please make cheque payable to

NG Owners Club

and send direct to:

Magazine Editor:

Jeffrey Yardley, 13, Langar road, Bingham, Notts NG13 8EY - 01949 839580 -

jeffyardley@talktalk.net

Reminder: unlimited advertising in ChangiNGear is free to members but ads may be removed after 2 issues unless I am notified that you wish to re-advertise, Ads will also appear on the NGOC Web Site unless you specifically request otherwise. Ads may be accompanied by a photo and may be sent to me by post or email. Jeff, Editor.
For Sale 28 March 2020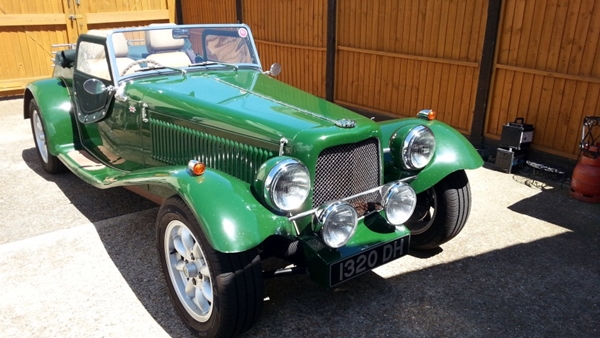 NGTF 1800 correctly registered complete with personalized No. if you are Damon Hill!
1984 kit supplied by Nick Green which took 18 months to build, First driven June '86 Mot's ever since (some with different reg '73 donor car), covered 47k, Since then almost everything has moved with the times ie John Hoyle suspension front and rear with Serra LSD, SVA Brasscraft screen, complete with hood and tonneau, 7 port crossflow aluminium cylinder head bought from USA and four Yamaha XJR1300 carbs (inlet manifold designed my myself), this was to reduce heat on the SU's from the s/steel exhaust manifold.
The chassis was shot blasted and Zinc flame sprayed, then painted with two pack. The body was painted by a friend (who was the body shop manager of as local Ford main agent) with 2pack paint, so good it will kill you! ie cyanide don't lick it! Just to note:- S/Steel tank, inertia reel belts matching door cards and carpet, MG Midget handbrake, 15" alloys, electronic ign, s/steel rear rack, 4 speed with O/D, and two spares plus enough bits to build another engine or two! (towbar can be fitted).
I've changed/rebuilt engines a few times; lost count, the current one has covered about 5k, kept the compression low to suit current fuels. ie it's not a V8, but will plod along at 55-60 all day, why go faster. I have full documentation, bills, and info since day one.
The reason for sale; my Mot man said the speedo looks the same for the last 3 years! ie Stratford and back! Would like £9900, make a sensible offer (No. plate is 2k). Mick Greenland 07872 837 189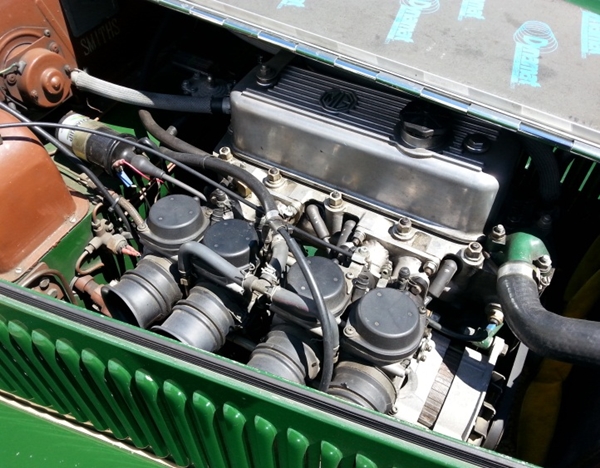 For Sale 28 March 2020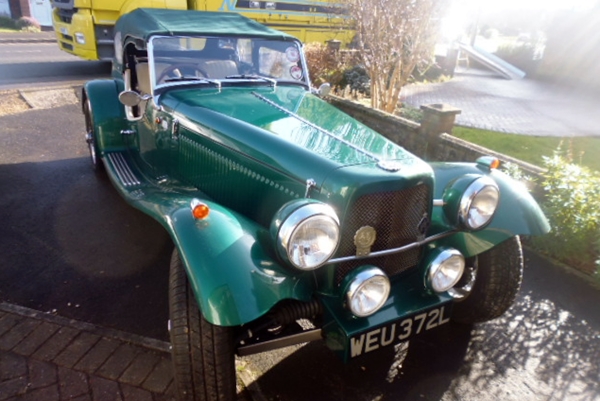 My 2001 NG TF is in excellent almost conncours condition, it has overdrive, electric fan and remote filter, stainless steel tank and an Ivor searle engine, 9000 miles only,all build documentation, mohair hood and toneau,
£7500 includes full set of manuals.Telephone for more details
Yes it is correctly registered as an NG - Gordon White 01179322768